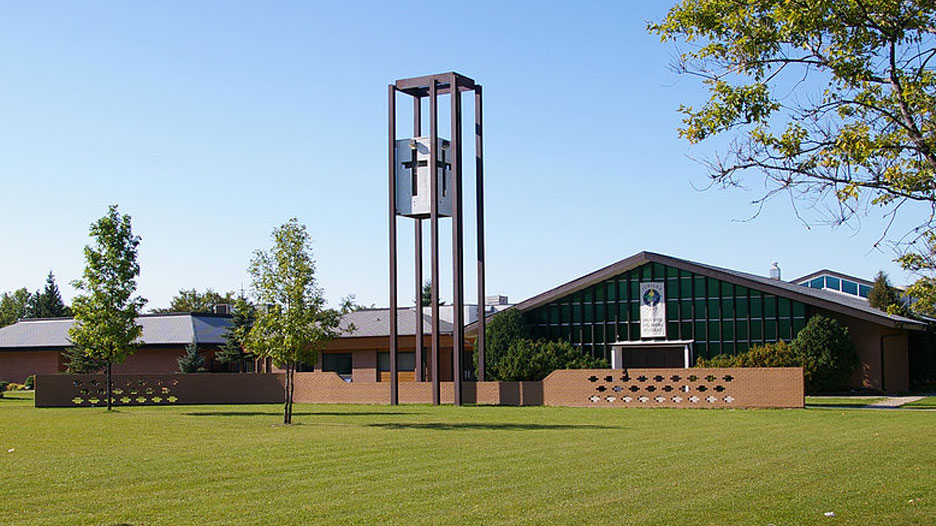 Please visit videos for the virtual Open Houses – also available on St Maurice Website
Virtual Open House for K-6: https://www.youtube.com/watch?v=Nu4p3QQ-8GA&list=PLAkAgq2rzTmRvk0L3lx_rwX9sQmr1Z9Zx
Virtual Open House for 7-12: https://www.youtube.com/watch?v=AsQbp5FJleA&list=PLAkAgq2rzTmTeAAeWBeLQwiLQH0ZgPjkS
St. Maurice Parochial School (K-12) of St. Vital Roman Catholic Church
Please enter St. Maurice using the Blue Doors from our parking lot on Manahan Ave.
We are the largest Catholic school in the province of Manitoba. Since 1958 we have established a tradition of academic excellence within a structured learning environment permeated by Christian values. Since 1991 our high school graduates have gone on to be meaningful contributors to society both in their chosen vocation and in their acts of Christian service. You can read some of their stories on our web page in the "Admissions" tab under the heading "Read My Story" www.stmaurice.mb.ca. Over 93% of our graduates continue on to post-secondary studies. Invariably they come back to visit and tell us, "We were well prepared!"
Along with a strong faith and academic culture, our school has developed into a vibrant community with a family atmosphere where students feel welcomed, safe and at home.
Other Highlights of St. Maurice School
Catholic Liturgical celebrations at St. Vital Parish Church
Campus Ministry program
Christian Service Program Grades 7-12
School Uniform K-12
Over 35 extra-curricular activities to choose from including one of the top debating programs in the province
Grade 12 Advanced Placement Courses
Award winning High School Business Education Program
Non-semestered year-long courses in high school
St. Maurice School is a full service educational institution:
St. Maurice Daycare (ages 1-5), adjacent to the school buildings
Healthy Lunch program for Grade 1 to Grade 6
Before and After School Program for Kindergarten to Grade 6 students
Before and After School Study Halls for Grade 7-12 students
School Cafeteria with daily food services for Grades 7-12