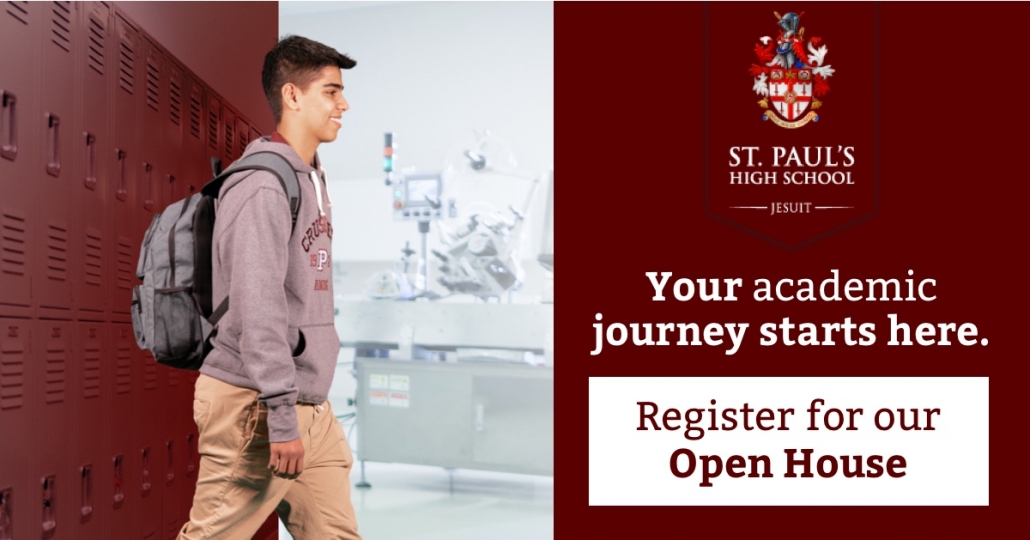 Educating Men for Others since 1926
Paul's High School prepares young men for post-secondary studies, subsequent leadership in the community, and to become men of conscience, competence and compassion.
As a Jesuit, Catholic high school, St. Paul's strives for academic excellence and growth of the whole person by challenging students with a well-rounded academic program, a wide variety of extra and co-curricular activities, and exceptional faith formation and personal development. Programming is designed to facilitate healthy intellectual, spiritual, physical, social, and emotional development.
St. Paul's develops our curriculum in a way that inspires our students' imagination and desire to learn, encouraging them to make positive and meaningful decisions in their lives, providing the groundwork that promotes lifelong learning. At. St. Paul's High School, you'll start a journey on the road less traveled and become a Man for Others.
Admissions Programs:
Register for our Open House:
Attend our Shadow Program: "Crusader for a Day"
Request an Application Package:
Profile of a Graduate:
 The St. Paul's graduate is the product of an education which combines academic, spiritual, and social aspects. He learns that this process is lifelong, and that, as a result of his education, the friendships he has made, the faith he has developed, and the challenges he has risen to, he will continue to accept the responsibility to be "a man for others" throughout his life. St. Paul's encourages individual responsibility and a commitment to help others, as well as the individual goal of excellence in the path the graduate follows in life. The school places great importance on the fostering of the ties to former students, who are welcome at various alumni events where acquaintances are renewed, and the bonds of friendship reaffirmed. The following represent the main characteristics of a Jesuit education:
Open to Growth
Intellectually Competent
Religious
Loving
Committed to Doing Justice