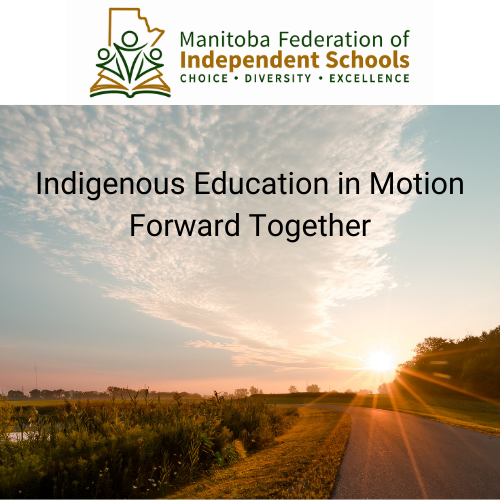 MFIS Educators' Conference
April 29 @ 8:30 am

-

12:30 pm
MFIS Educators' Conference being held virtually Friday, April 29, 2022, from 8:30 am to 12:30 pm.
REGISTRATION IS NOW OPEN
"Indigenous Education in Motion – Forward Together!"
Our theme this year is on Indigenous awareness and education.
The conference is an opportunity for MFIS member schools' educators to learn collectively about Indigenous history, culture, and contemporary lifestyle from Indigenous people. In so doing, it is our goal to help educators develop and implement appropriate and meaningful programming.
The conference program will include up to 7 concurrent sessions with opening and closing keynote speakers. Presentations will be about 40-45 minutes in length, including 10 minutes of question and answer.
The registration fees are:
o $50 per person
o $45 per person from 10 or more attendees from your school. The school will be invoiced for participants.
Visit the conference website for regular updates and further details about the speakers/presenters, and session overviews
REEGISTRATION DEADLINE – APRIL 25, 2022