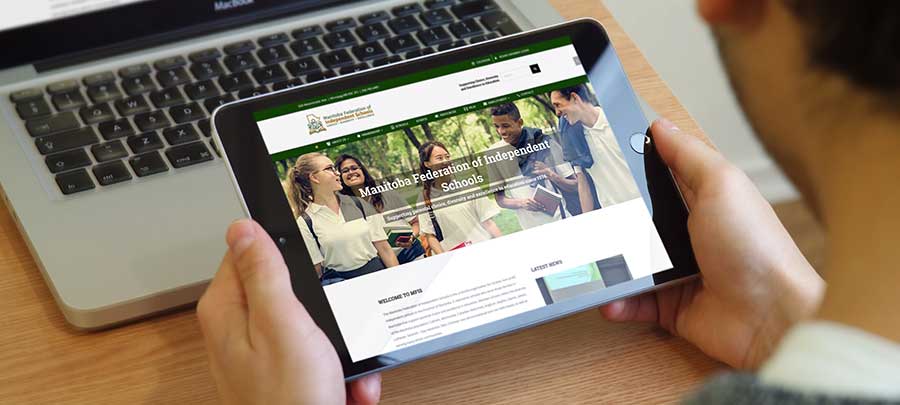 DIGITAL LANDSCAPE – CULTIVATING LEARNING
April 8, 2019 @ 8:00 am

-

3:30 pm

|

$100
MFIS EDUCATORS' CONFERENCE 2019
Plan to join us at the 2019 Biennial Educators' Conference, Monday, April 8, 2019 at Victoria Inn to learn and connect with other educators of MFIS Member Schools.
8:00 am to 9:00 am REGISTRATION AND RECEPTION
9:00 am to 9:15 am OPENING AND WELCOME
9:15 am to 10:15 am KEYNOTE PRESENTOR – Darren Kuropatwa – "Tales of Learning and the Gifts of Footprints"
10:15 am to 10:45 am BREAK
10:45 am to 12:00 pm MORNING CONCURRENT SESSIONS: (click here for details)
12:00 pm to 1:00 pm LUNCH
1:00 pm to 2:15 pm AFTERNOON CONCURRENT SESSIONS: (Click here for Details)
2:15 pm to 2:30 pm BREAK
2:30 pm to 3:00 pm CLOSING KEYNOTE – Joel Semeniuk – "Preparing for the Future of Work, Today"
3:00 pm to 3:30 pm CLOSING REMARKS AND EVALUATION
KEYNOTE – Tales of Learning and The GIfts of Footprints by Darren Kuropatwa
Why does digital learning matter? In a society that is increasingly technophilic what are the new literacies we need to be aware of for our own learning and that of our students? How does this impact the way we think about and teach our children to become empowered and empathetic responsible citizens? Answers to these questions and more will be shared through a series of powerful tales of learning.
CLOSING KEYNOTE – Preparing for the Future of Work, Today by Joel Semeniuk
How humans will work in the future has never been so uncertain.  It is predicted that 85% of the jobs that will exist in 2030 haven't even been invented yet.  The world is ushering in the 4th Industrial Revolution that promises to impact our society more in the next 25 years than in all of human history combined.  How can we prepare our leaders of tomorrow for such a dramatic and imminent change?  Let's find out.
MORNING SESSIONS 10:45am – 12:00pm
Creating a Collaborative Classroom with Blackboard Learn
by SHANNON MCGEE and CHRISTOPHER FREDERICKSON
Manitoba Education and Training has a provincial license for Blackboard Learn Learning Management System (LMS).  Within this LMS are grades 9-12 Manitoba curriculum congruent Web-Based Courses that are available for Manitoba certified teachers to use as a reference, to teach from a distance or within a blended classroom.
This session will review the many ways that teachers can use an LMS to engage and support student learning:
Synchronous Learning with Blackboard Collaborate
Asynchronous Learning
Collaborative Tools
Blended Learning, Flipped Learning
Gamification
Personalized (Project Based) Learning
Credit Recovery
Enrichment and Extension; Snow Days = eLearning Days
Mobile Apps for Learning
Professional Development
Intended Audience: Grades 9-12
Digital Ethics or The End of the Age of Legends
by Darren Kuropatwa
We live in an age where everything is recorded digitally – in pictures, video, and text – live as it happens; it's the end of the age of legends. "Selfie", according to the Oxford dictionary, is the word of the year 2013. Often the selfies our students are sharing aren't putting their best digital foot forward. As teachers, how can we help our students leave digital footprints they can be proud of? Is only sharing your "best stuff" such a good idea? How do we address the issue of digital ethics across the curriculum and in our classrooms?
In this session we will share some practical suggestions for a digital ethics policy in your classroom, share resources you can use with your students to have meaningful conversations about making ethical and responsible choices online, and share concrete practical suggestions you can use in your class tomorrow to help your students create digital footprints that will pass The Grandparent Test (it's not what you think it is).
Please download the i-nigma QR-Code Reader and Phonto apps before the workshop (available on both the iOS App Store and Google Play Store) and bring your fully charged mobile device.
Everyone Can Code
by SUHAYL PATEL
We believe that coding is an essential skill for helping students thrive in a technology-driven future. Learning to code unlocks creativity, develops problem-solving skills, and opens career paths.  Join us to learn about Everyone Can Code, the free comprehensive curriculum that makes it easy to teach coding to students.   In this workshop, you will experience programming in Swift Playgrounds, a revolutionary app for iPad that makes getting started with coding fun and interactive and explore lesson plans and teacher guides designed to bring coding into the 5–8 classroom.
Google Tools for Learning
by PHIL TAYLOR
This workshop will get you started on your journey of becoming a Google for Education Educator. Phil discusses how to get started on your Level I Certification and how to make use of the training resources. These resources are a good fit for the educator who would like to learn more about integration of technology in their classroom. Phil will share many of his favourite practical tips and tricks found in G Suite for Education, working with Google Forms to Google Sites and everything in between. Participants will have opportunities to try some of tools during the session. Intended audience: Educators new to Google for Education Tools and/or for those wanting to develop their edtech skills.  This workshop is beneficial for the novice to the intermediate user.
NOTE: Please bring a device (laptop, tablet, or smartphone). You will need a Gmail account to use the tools discussed in this workshop. Please have your account created in time for the session.
Inquiry Based STEAM (Science, Technology, Engineering, Arts and Mathematics) Projects from the Manitoba Association of Physics Teachers (MAPT)
by ROBERT STRIEMER
For years, MAPT has been engaging Manitoba middle and senior years students with high altitude balloon (HAB) science. Last year, students from a dozen Manitoba schools sent their science and engineering projects to altitudes in excess of 30 kilometres or 100,000 feet to test their ability to explore a distant and extreme environment. Students program Arduino microcontrollers to collect data from a variety of sensors. Flight video is captured with small digital video recorders. Science curriculum connections include grade 6 "Flight", grade 8 "Fluids"and grade 10 "In Motion". Back in the classroom, students can use similar technology to measure the atmosphere (grades 5 and 10 weather). MAPT will demonstrate how a low cost, Internet of Things (IOT) mini weather station can be easily assembled and used to measure temperature, pressure, relative humidity and calculate dew point. The data received wirelessly from the weather station produces, graphs and other visualizations that are shared over the internet in near real time.
Intended Audience: Grades 5 – 10
Literacy with ICT across the Curriculum – Critical, Creative, and Computational Thinking
by CHERYL PROKOPANKO and ROSALIND ROBB
Literacy with ICT (LwICT) is growing! LwICT has always been based on critical and creative thinking, and now it is expanding to include computational thinking. Come learn more about LwICT, and about how to support your students in developing their critical, creative and computational thinking.
Supercharging Pedagogical Practice of Assessment for Learning
by KENT BREWER
"If you're serious about raising student achievement you have to improve teachers' use of assessment for learning" (Dylan William)."If we use computers simply to deliver information to students, we are missing the Revolutionary potential of the new technology for transforming learning and education" (Mitch Resnick).
These two statements will guide our session that explores some of the edtech tools that can supercharge pedagogical practice of AfL. These supporting mechanisms and strategies have the potential to positively impact student achievement. Today's teachers have an incredible tool box of technology at their fingertips which can enhance student learning through ownership and creativity. Additionally, seamless integration of technology that supports the assessment process can create an efficient and timely conduit for feedback, reflection and deeper learning. Through the lens of technology, we will focus on engaging students in classroom assessment in support of their own learning while informing teachers about what to do next to help students to progress. Please bring a device and be as interactive as you like!
AFTERNOON SESSIONS 1:00pm – 2:15pm
Five Secret Ways to Immunize your Students against FAKE NEWS, Alternative Facts, and Click Bait!!
By CHERYL PROKOPANKO and ROSALIND ROBB
Do you want to help your students develop a resistance to fake news that boosts their ability to think critically about what they see, read, and hear in both news media and social media? Uncover how the drama and believability of fake news is constructed to earn money and generate power and influence for its creators. During this session, you will have the opportunity to activate your awareness of the difference between fact and fabrication encountered on the Internet, and acquire teaching strategies that infuse critical thinking and the Ethics and Responsibility descriptors of LwICT in your curriculum from K-12.
Bring your own laptop, tablet, or smartphone.
Innovation in Schools
by SUHAYL PATEL
Are you interested in exploring how to raise the bar for learning, teaching, and creating a school environment with technology? This session will examine how to develop innovative environments for learning and teaching. We will explore the stages of innovation we've seen schools go through when they introduce, integrate, then innovate with technology and how to measure the effectiveness.  Participants will leave with resources to help them in their own practice.
Integration of Technology in French: Communication Culture, Grades 4-8
by KATE HALLET, ARLA STRAUSS, CAROLE BONIN
The integration of technology can help students to listen, to speak, to read and to write in French, therefore supporting the balanced literacy approach to teaching and learning French. Technology can play an integral part in the FCC classroom and with careful planning with curriculum outcomes, students can demonstrate and celebrate their learning. Authentic, communicative learning situations that infuse technology in French class and that meet the needs and interests of students will be shared.
Intended Audience: Grades 4-8
Moving Toward a Multimodal Literacy Environment
by BRANDI BARTOK
The multimodal literacy experiences that students live outside of school can create tension with entrenched school literacy instruction that privileges print over other ways of knowing and understanding. This session will explore multimodal literacy (what is it?), what a multimodal teaching and learning environment might look like, as well as the impact it might have on the classroom community.
Intended audience: K-12 teachers.
STEAM – Science, Technology, Art, Mathematics
by SEEMA GOEL
STEAM is the understanding that the arts and sciences are intrinsically linked and cross-fertilizing. That the majority of Nobel Laureates in the sciences also position themselves within some genre of the arts is no surprise, not because of their brilliance, but because the arts occupy a critical role in brain development and lateral thinking. The arts teach risk, rigour, self-discipline, collaboration, and promote connections across disparate ideas. Largely dwelling in the body, they also are part of our tactile neurological pathways, and loosen our minds to allow new ways of thinking, making, and problem solving.
This workshop will explore STEAM and present a rethink on what technology is and means to the advancement of this program. Participants will be asked to engage with materials and hopefully come away with a renewed sense of how the arts can be used as a rich source of methods and problems to dig deeply into the possibilities of science.
Taking Ownership of Your Professional Growth and Curating Your Resources
by PHIL TAYLOR
Learn how to customize and take ownership of your professional learning; learn how to effectively create a variety of resources for yourself and to share with your colleagues. Phil will share many of his favourite resources and tools, such as Diigo, microcredentials, and Twitter.
Note: Please bring a device (laptop, tablet, or smartphone) to explore the variety of resources and ideas that will be shared with you during this session.
The King's School's Transformation to Google Education
by JANET NEWEDIUK
This session will outline the exciting journey that The King's School followed as they transitioned and transformed to a Google Education environment. Janet will explain current practice in their school, describe their future plans, as well as outline the risks and benefits of launching into a Google environment.
Arla Strauss
Arla is a French Curriculum Consultant with the bureau de l'education francaise
Brandi Bartok
Brandi started her teaching journey in 2005 and has learned alongside students from grades kindergarten to grade twelve in two different provinces. Currently, she is working as a Teacher-Librarian and ELA Curriculum Consultant for Pembina Trails School Division. Brandi has a B.Ed. (Early Years) from the University of Manitoba, and is currently writing her thesis on Multimodal Literacy to complete a M.Ed. from the University of Manitoba.
Carole Bonin
Carole is the French Curriculum Consultant for Louis Riel School Division and the bureau de l'education francaise
Cheryl Prokopanko
Cheryl is an alumna of St. Mary's Academy, and in 2018 was awarded the Marian Award for Excellence for a lifetime of personal and professional achievement. She taught in the Winnipeg School Division before joining the Manitoba Department of Education, where she has been a consultant, coordinator, and director. Among many other initiatives related to infusing ICT into teaching and learning, Cheryl is the project leader for Literacy with ICT across the Curriculum. Her most recent work is in computational thinking and 'fake news'.
Christopher Fredrickson
Christopher has been a Consultant with Manitoba Education for the past 2 years.  He focusses primarily on the development of Web Based Courses, and supports the implementation training of the Learning Management System.
Janet Newediuk
Janet is the IT Lead at The King's School. She has been an educator for almost 44 years, and she began her career as a Home Economics teacher at Selkirk Junior High. She became part of a core staff developing a new school, and in 1979 she moved to Lockport School. Janet loves learning, but also becomes easily bored, and so began seeking new challenges, teaching ELA, French, Math, and eventually LICT. Her journey into technology began in the late 1980s in a computer lab of Commodore 64 units to a small network of 8086 DOS computers, then to Windows 3.1, and Windows 95 computers with a Windows NT server which had a mind-blowing 212 Mb of RAM! The process also included involvement on a committee writing middle-years curriculum for the school division. After being out of that area of curriculum for a few years, she has more recently quarterbacked the transition of The King's School to a wireless network, as a Google School in a BYOD environment.
Kate Hallett
Kate is a Middle Years teacher from the Louis Riel School Division.
Kent Brewer
Kent is currently Curriculum Consultant responsible for K-12 Technology Integration at RETSD in Winnipeg, Manitoba. In 2007 he was recognized as a World-Wide Microsoft Innovative Educator attending global forums in both Helsinki, Finland and Hanoi, Vietnam. In 2011 he was selected as one of two Canadian Teacher Leaders to participate in the Global Learning Forum Institute in Washington DC. Kent has also been awarded the Prime Minister's Award for Teaching Excellence for his commitment to teaching with integrated technology. He is an active board member of the Canadian Assessment for Learning Network and most recently, he was presented with the opportunity to visit and collaborate with educators in Espoo, Finland at the Saunalahti School of the Future and Talin, Estonia at the Ministry of Education and Innove.
Phil Taylor
Phil is an Educational Technology Specialist, Trainer, & Consultant. He is also Director, Treasurer, and SAGE Registrar of ManACE Manitoba Association for Computing Educators – www.manace.ca. He is a Certified Google Educator Level 1 & 2 | Google for Education Certified Trainer | SMART Certified Educational Trainer | Certified SMART Notebook 11 & Notebook 14 Trainer. He has 37 years experience as an educator/learner which includes classroom teacher, Head of Department and Administrator.
Robert Striemer
Robert has over 30 years experience teaching science and is an active member of the Manitoba Association of Physics Teachers (MAPT). Robert received a Minister's Award for Teaching Excellence in 2011 and the Prime Minister's Award for Teaching Excellence in 2012.
Rosalind Robb
Rosalind is an educator who has been with the Department of Education for 19 years and has had the opportunity to work in both the Department's Web-Based Course Development and Literacy with ICT Across the Curriculum initiatives.  She has experience working with children of all ages and has taught at the Senior Years level and in adult education.
Seema Goel
Seema Goel is the STEAM Programmer and Outreach Coordinator for the Faculty of Science at the University of Manitoba. She holds the only position of this kind in the country. Her educational background includes a B.Sc. from McGill, an Associate Arts diploma from the Ontario College of Art and Design, and an MFA in sculpture from the Rhode Island School of Design. She is currently completing an M.Sc. in Interdisciplinary Studies connecting environmental engineering and aesthetics with specific attention to the influence of aesthetics and participative design to the success of sustainability projects.
In her art practise her work focuses on human-animal, human-place, and human-human relationships. Using an eclectic range of materials to explore these themes, she draws from her dual background in the arts and sciences to produce multilayered works. Often creating pieces that engage viewers in tactile and physical actions, she uses phenomenology, humour, and viewer experience to connect the viewer to the work through their personal relationships to the materials at hand.
Shannon Magee
Shannon has been a Consultant with Manitoba Education for the past 4 years.  In this role she supports teachers in the implementation of online and blended learning.
Prior to this, Shannon was a grade 9-12 English teacher and FNMI Student Support Teacher with Lakehead Public Schools in Thunder Bay, Ontario.  Additionally, Shannon worked with the Canadian Online High School in creating and teaching online courses.
Suhayl Patel
Suhayl Patel is a member of the Learning and Leadership team at Apple. This role involves supporting schools/districts effectively implement technology and build capacity.  In previous roles, Suhayl taught middle school, high school and college mathematics. He also served as a Senior Education Specialist for the Calgary Board of Education before joining the Apple team.